Mija Van Der Wege

Personal
---
Family
My husband, R. Kevin Chapman, and I have been married since August 29, 1998. We met while I was living in Scotland and attending the University of Edinburgh during the 1992-1993 school year. We've been together since February, 1993, did the long-distance relationship thing for 4+ years, and were engaged in July, 1996.

He currently works as a Customer Service Representative at Thomson-West Publishing. However, he is a computer scientist by trade, with specialties in training and documentation and application programming.
We live with our cat, Kitsen, who is about 17 years old. He is a very vocal part-Siamese, who likes to wake us early in the morning. He has been desperately attempting to keep his weight and his age equivalent. More recently, he has figured out that the basket in front of the fireplace is very comfy.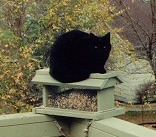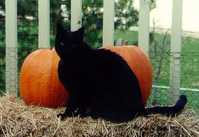 Hobbies
Reading: I love to read. I'm legally blind without visual correction, and I blame it all on my love of the written word. I like science-fiction, fantasy, fiction, feminist writings, "classics". Some of my favorite authors are listed on my Links page.
Music: I enjoy listening to all kinds of music, singing all kinds of music, and occasionally playing the piano. I've sung in many choirs in my life, including church choirs, high school choirs (Chamber and Jazz), college choirs (Chamber and a capella), and other groups, such as the Bel Canto Voices. In California, I was part of an amateur 4-part a capella group called KBAM! which split up when three of the members moved to Massachusetts. I am currently singing with the Carleton College Community Choir, which is performing Bach's Mass in B minor with the Macalester College Festival Choir and the St. Paul Civic Symphony in November, 2003.
Crocheting: Mostly, I crochet afghans and baby blankets. I have done some forays into the world of doilies. I'll put some pictures of my creations up at some point.
Cooking: I find cooking very relaxing. I especially enjoy making desserts, such as chocolate torte, cheesecake and tiramisu. And, of course, my friends and family hate it when I make desserts for them.
Science Fiction and Fantasy: I enjoy reading science fiction and fantasy, watching TV and movies. I am especially fond of the Babylon 5 series, and the shows of Joss Whedon.
---
Mija Van Der Wege / mijav <at> yahoo <dot> com / This page was last updated on October 31, 2003.